Discover the allure of the Caribbean's hidden gem
Are you looking for the ultimate tropical getaway? The Dominican Republic, located in the heart of the Caribbean, offers a diverse range of experiences that make it a top destination for travelers from around the world. From pristine beaches to lush rainforests, this enchanting island nation has something for every type of adventurer. In this article, we will explore the top ten reasons why you should consider visiting the Dominican Republic.
1. Stunning Beaches
Powdery white sands and crystal-clear waters await you
One of the primary draws of the Dominican Republic is its breathtaking beaches. With over 1,000 miles of coastline, you'll find a wide variety of beach experiences to choose from. Whether you're seeking a peaceful, secluded cove or a vibrant, bustling beachfront, the Dominican Republic has it all.
Punta Cana, known for its all-inclusive resorts, boasts some of the most famous beaches, such as Bávaro and Playa Blanca. The beaches here are picture-perfect, with powdery white sands that stretch for miles. You can unwind under the shade of palm trees or take part in thrilling water sports like snorkeling and windsurfing.
If you prefer a more secluded setting, head to Las Terrenas on the Samaná Peninsula. Here, you'll discover pristine beaches bordered by swaying coconut palms, providing a tranquil escape from the hustle and bustle of the more touristy areas.
2. Vibrant Culture and History
A rich tapestry of heritage waiting to be explored
The Dominican Republic is a land of rich cultural and historical significance. It was the first place Christopher Columbus set foot in the New World in 1492, and its colonial history is still evident today. Santo Domingo, the capital city, is home to the first cathedral, castle, and monastery built in the Americas, all of which have been designated UNESCO World Heritage Sites.
Explore the cobblestone streets of the Zona Colonial, where you can stroll past colorful buildings and charming plazas, immersing yourself in the country's colonial past. Don't forget to visit the Alcázar de Colón, the former residence of Columbus's son, Diego, which now serves as a museum displaying art and artifacts from the colonial era.
The Dominican Republic's vibrant culture is also celebrated through music and dance. Merengue and bachata, two of the country's most famous musical styles, can be experienced at local dance clubs and festivals, providing a lively and immersive cultural experience.
3. Lush Rainforests and Breathtaking Landscapes
Escape to a world of natural wonders
Beyond its stunning coastline, the Dominican Republic is a paradise for nature enthusiasts. The country's interior is a tapestry of lush rainforests, towering mountains, and picturesque valleys.
One of the most captivating natural wonders is the Cordillera Central mountain range, which includes Pico Duarte, the highest peak in the Caribbean. Hiking enthusiasts can embark on a challenging trek to the summit, rewarded with panoramic views of the surrounding landscape.
The country is also home to several national parks and protected areas, such as Los Haitises National Park, where you can explore limestone caves, mangrove forests, and an array of unique wildlife. The lush jungles of El Yunque National Park offer fantastic opportunities for birdwatching and hiking, while the serene beauty of the Dominican Alps in Jarabacoa provides a tranquil escape.
4. Delectable Cuisine
Savor the flavors of the Caribbean
The Dominican Republic offers a culinary adventure that combines indigenous Taíno, Spanish, African, and Middle Eastern influences. The result is a diverse and flavorful cuisine that will tantalize your taste buds.
No visit to the Dominican Republic is complete without trying the national dish, "la bandera." This hearty meal typically consists of rice, red beans, and stewed meat, often accompanied by fried plantains and a side of avocado. Seafood lovers will delight in the fresh catch of the day, prepared in various ways, from crispy fritters to savory stews.
Exploring local markets and street food vendors is a must for food enthusiasts. Sample "empanadas" (savory pastries), "mofongo" (mashed plantains), and "tostones" (fried green plantains) for an authentic taste of Dominican street fare. Don't forget to pair your meals with a refreshing glass of "mamajuana," a traditional Dominican drink made from rum, red wine, and herbs.
5. Adventure Activities
An adrenaline rush like no other
If you're an adventure seeker, the Dominican Republic offers a wide range of thrilling activities to get your heart racing. From water sports to mountain adventures, there's something for everyone.
Water enthusiasts can go kiteboarding in Cabarete, which is considered one of the world's top kiteboarding destinations. The consistent trade winds and warm waters make it an ideal spot for beginners and experts alike. Additionally, you can explore the underwater world by snorkeling or diving in the coral reefs off the coast.
For those who prefer land-based adventures, try off-road ATV excursions in the rugged terrain of the Dominican countryside. You can also go canyoning and rappelling down waterfalls in the lush jungles, providing an adrenaline rush and a chance to connect with nature.
6. Diverse Ecosystems
A haven for biodiversity
The Dominican Republic is a biodiversity hotspot, boasting a wide variety of ecosystems that support numerous species of plants and animals. The country's commitment to conservation is evident in its many protected areas and national parks.
Samaná Bay, located on the northeast coast, is a haven for humpback whales. From mid-January to mid-March, these majestic creatures migrate to the bay to give birth and mate. Whale-watching tours offer a chance to witness these incredible mammals up close.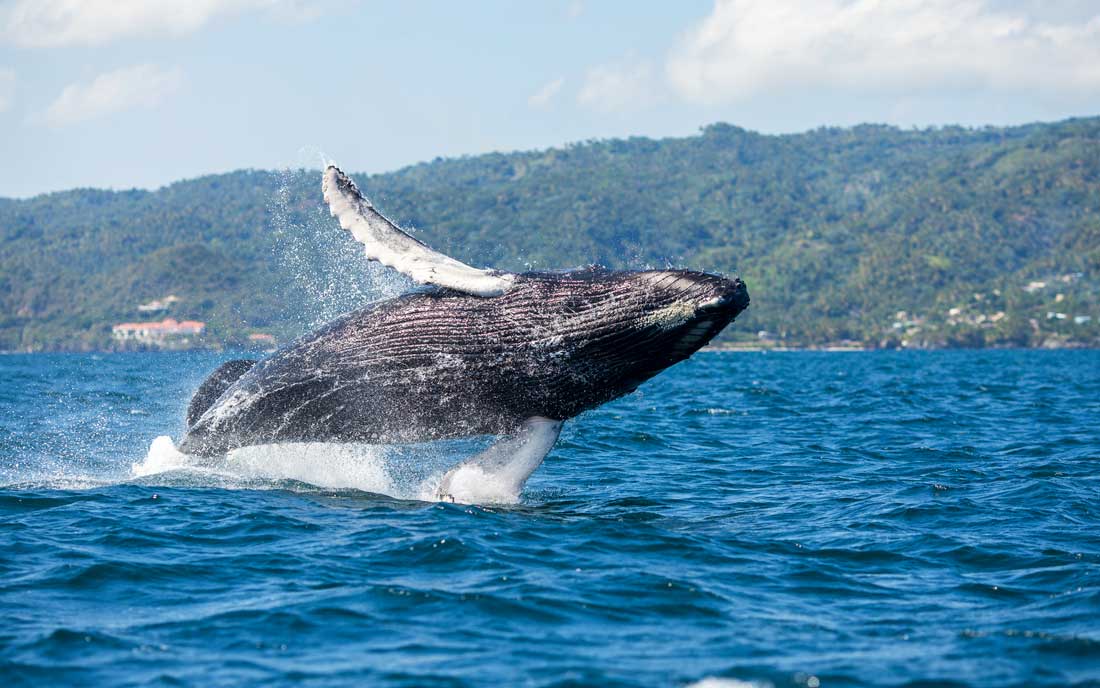 Birdwatchers will find paradise in the Dominican Republic, which is home to over 30 endemic bird species. Jaragua National Park, in the southwest, is particularly famous for its diverse birdlife, including the charismatic Hispaniolan parrot and the rare Ridgway's hawk.
7. Welcoming Locals
Experience the warmth of Dominican hospitality
One of the most enduring impressions travelers have of the Dominican Republic is the warmth and friendliness of its people. Dominicans are known for their hospitality and their willingness to make visitors feel at home.
While exploring the country, you'll have plenty of opportunities to engage with locals and learn about their way of life. Whether you're chatting with street vendors, sharing stories with your hosts in a rural village, or dancing the night away at a local club, you'll find that the Dominican people are eager to share their culture and traditions with you.
8. Affordable Travel
A Caribbean paradise that won't break the bank
For travelers looking for an affordable Caribbean getaway, the Dominican Republic is an excellent choice. While it offers the same stunning landscapes and pristine beaches as other Caribbean destinations, it often comes with a more budget-friendly price tag.
Accommodations in the Dominican Republic range from luxurious all-inclusive resorts to charming boutique hotels and budget-friendly hostels. You can tailor your stay to fit your budget without sacrificing comfort or quality.
Additionally, dining out and activities in the Dominican Republic tend to be more affordable than in other Caribbean countries. This makes it possible to enjoy a fantastic vacation without overspending.
9. Festivals and Celebrations
Immerse yourself in the vibrant culture
The Dominican Republic knows how to throw a party, and its festivals and celebrations are a testament to its vibrant culture. Throughout the year, various events and festivals showcase the country's rich traditions and lively spirit.
Carnival, celebrated in February, is one of the most colorful and exhilarating festivals in the Dominican Republic. Parades, costumes, music, and dancing fill the streets as locals and visitors alike join in the festivities.
If you're in the country during the Christmas season, you'll experience the lively atmosphere of "Las Parrandas," a tradition unique to the town of Bonao. This festive celebration includes music, dancing, and colorful masks, providing a memorable cultural experience.
10. Easy Accessibility
Convenient travel options for a stress-free trip
Traveling to the Dominican Republic is remarkably easy, making it a hassle-free destination for tourists. The country's main international airport, Las Américas International Airport (SDQ), is located in Santo Domingo and welcomes flights from major cities around the world. Additionally, several other airports, such as Punta Cana International Airport (PUJ) and Gregorio Luperón International Airport (POP), offer convenient access to popular tourist destinations.
Once you arrive, getting around is straightforward. The country has a well-developed road network, and domestic flights are readily available for those looking to explore different regions.
Dominican Republic
The Dominican Republic is a Caribbean paradise that offers a diverse range of experiences for travelers. From its stunning beaches and rich history to its lush rainforests and vibrant culture, there's something for everyone to enjoy. Whether you're seeking adventure, relaxation, or a cultural immersion, the Dominican Republic has it all. So, pack your bags and get ready to embark on an unforgettable journey to this captivating destination.